LED-RHB-32 ATC Brix 0-32% optical refractometer
Item No.: LED-RHB-32N
LED-RHB-32 is designed for measuring the concentration of sugar solutions. It is widely applied in measuring soybean sugar manufacturing, food and beverage. soybean sauce, ketchup, jam, honey solution etc.
INQUIRY
Description FAQ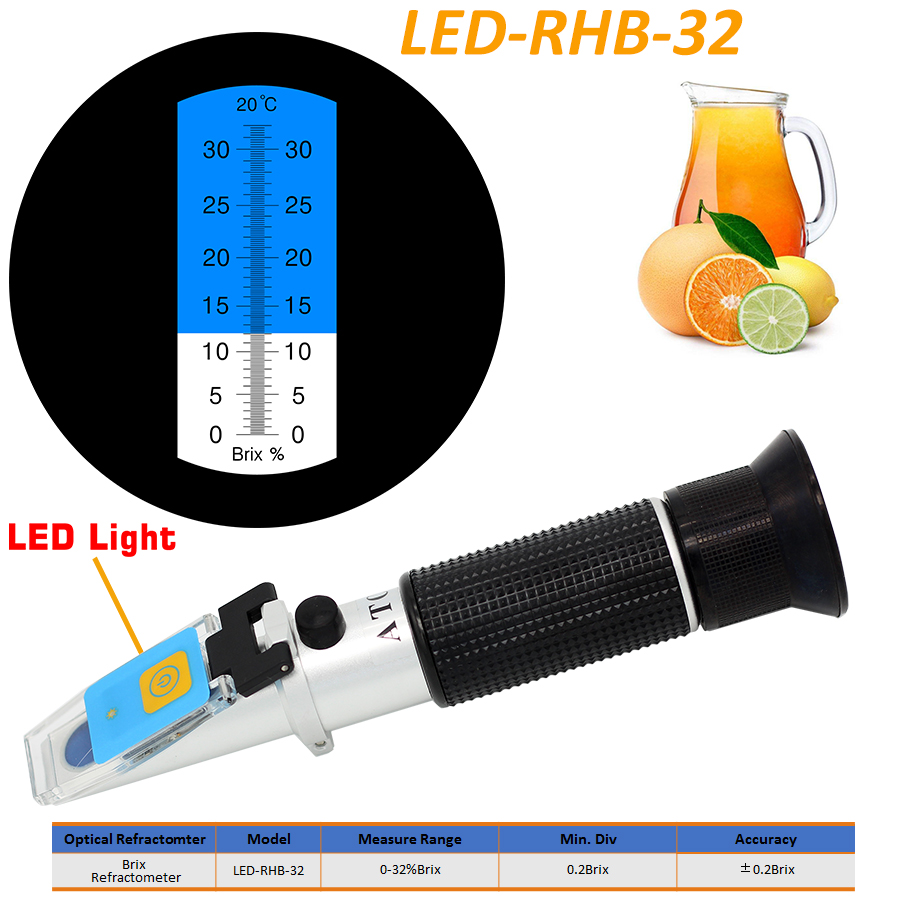 Features:
1. High quality pure aluminum body construction
2. Uses ambient light only which means battery or power source is not required
3. Easy to focus and calibrate
4. Cushioned with soft & comfortable non-slip rubber
5. With ATC function(ATC Compensation Range: 10°C~30°C (50°F~86°F))
6. Durable and built to last long
The usual sucrose concentration of substances
Title
Brix(%)
cutting, or machining emulsions (water with oil)
0 ~ 7
beer wort
0 ~ 20
tomato juice
3 ~ 6
peach juice
6 ~ 12
orange juice
6 ~ 13
apricots
8 ~ 11
sour cherry
8 ~ 18
pears
8 ~ 22
prunes
9 ~ 14
mirabelle plum
10 ~ 15
cherries
10 ~ 18
gentian (Gentiana lutea) - root
10 ~ 25
apple juice, carbonated soft drinks
10 ~ 22
pineapple
avg. 12.8
mango
avg. 13
rowanberries
14
milk beverages
16 ~ 21
plums
18 ~ 22
juniper - berries
30
fruit concentrates
42 ~ 68
condensed milk
52 ~ 68
vegetable oil
57 ~ 90
sugar syrup
58 ~ 80
fruit jam (jelly)
60 ~ 70

LED Cover Plate Features
1. With build-in bright LED light. Allows you make test in dark or twilight environment. When turn on the light, you can see the test result very clearly.
2. Convenient to use. You only need to press the LED cover plate button one time, the LED light will turn on and keep bright. You don't need to keep pressing the button when use the refractometer. When you press the LED cover plate button again, the LED light will turn off.
3. Compatible with different kinds of refractometers. Our refractometer LED plate can suit for most of species refractometers on the market. it's just only need to change the cover plate.
4. Different color buttons. Blue, black, red, green, purple, 5 color buttons can be chose.
Specification
Optical Refractomter
Measure Range
Min. Div
Accuracy
Brix Refractometer
LED-RHB-32
0-32% Brix
0.2 Brix
±0.2 Brix

Package list:
1x LED ATC Refractometer
1x Pipettes
1x A Mini-screw driver
1x Protective carrying case
1x manual
1x Clean cloth
Item Picture: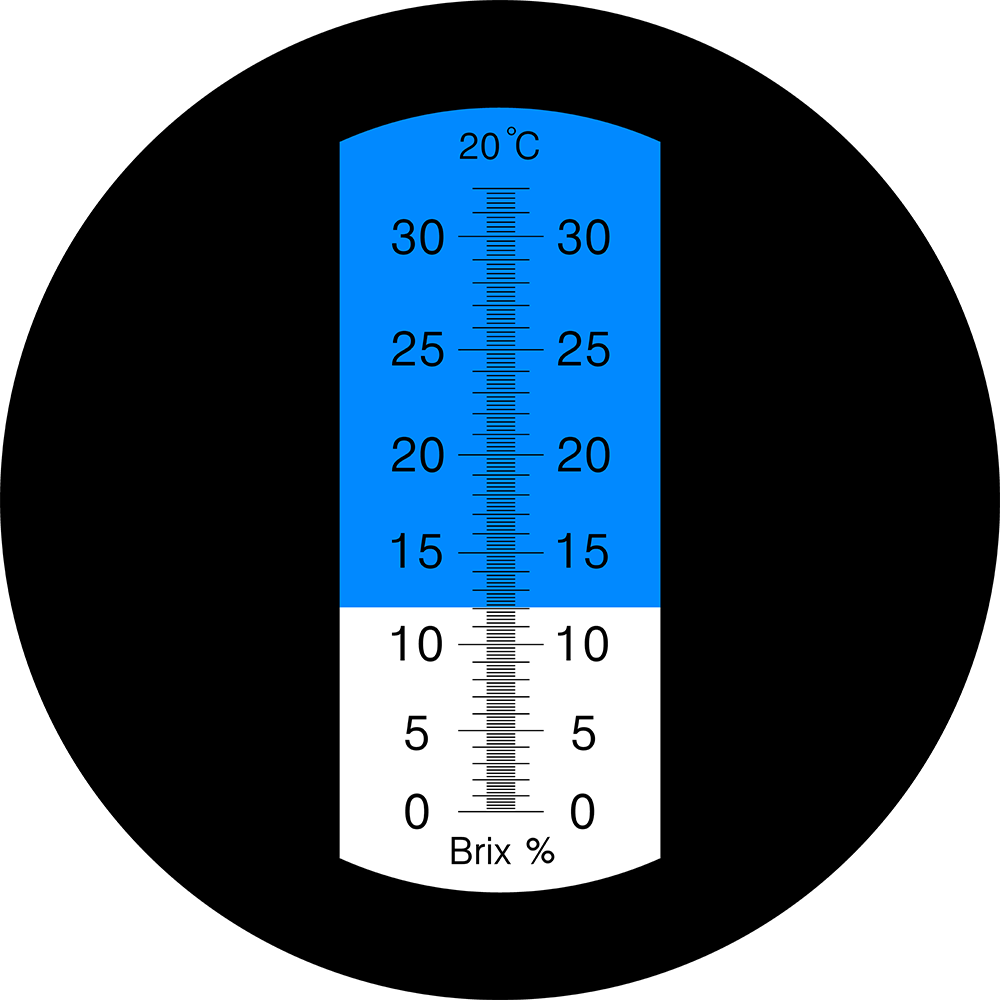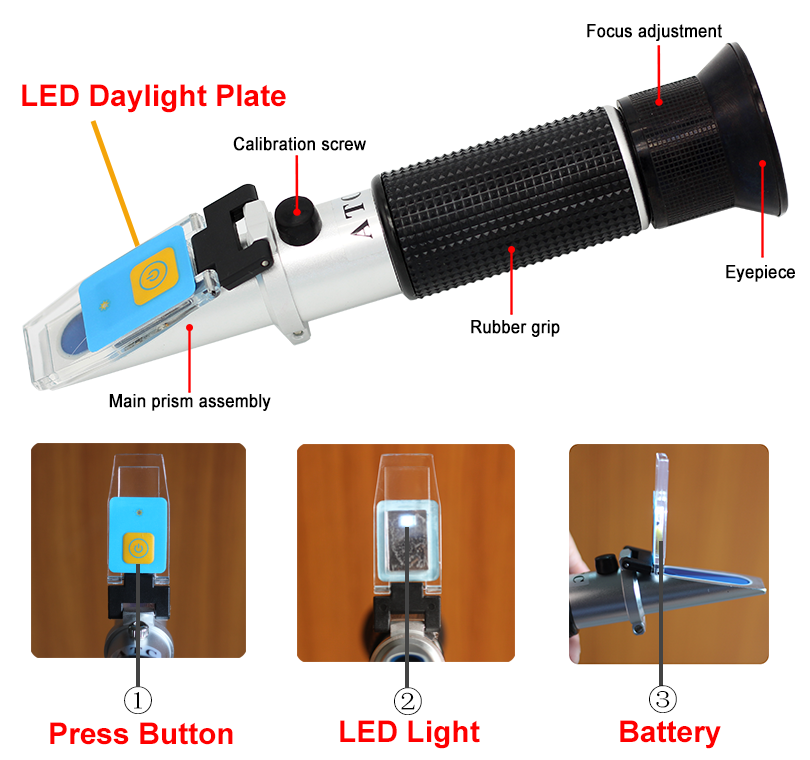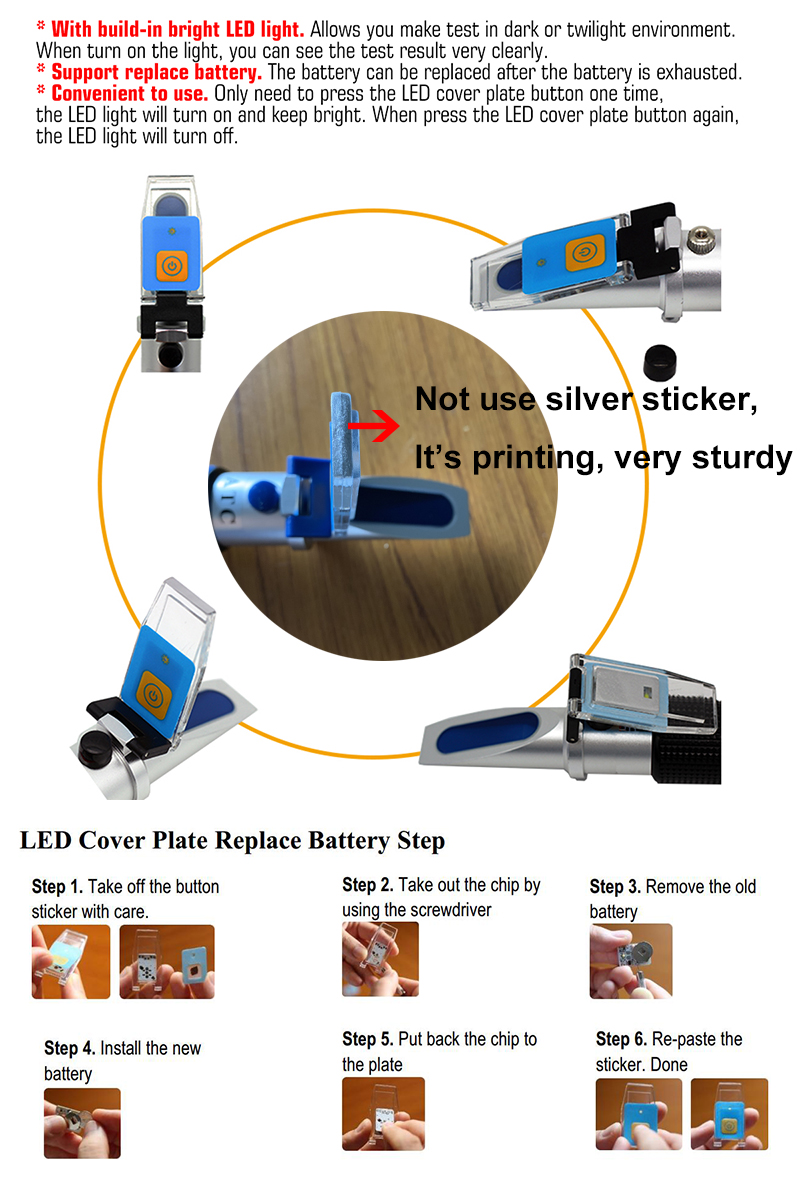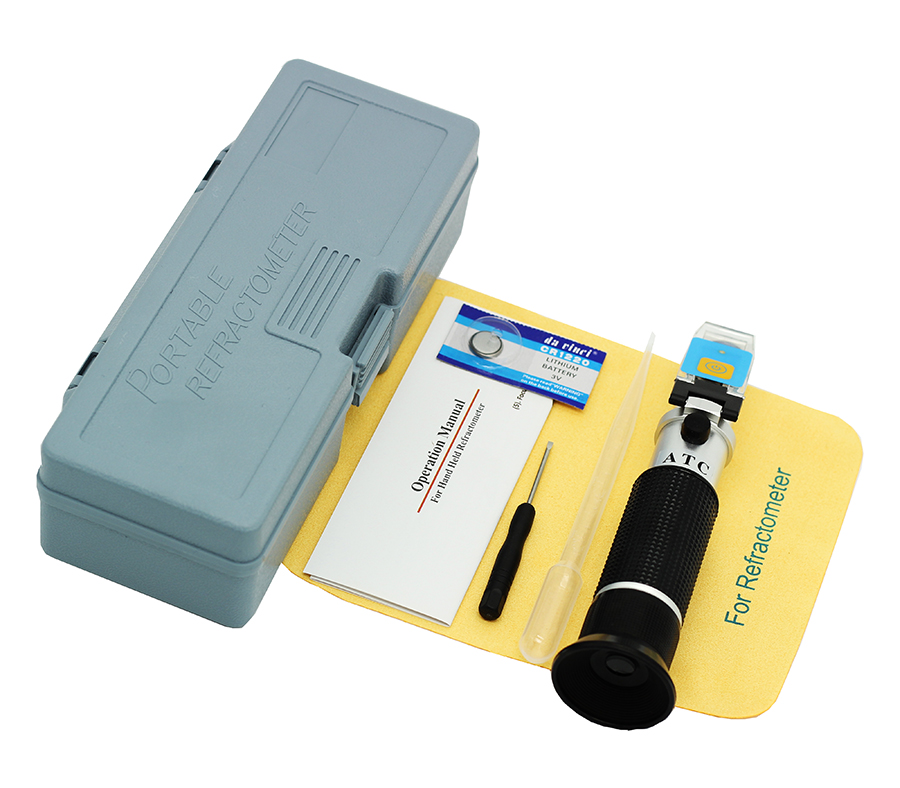 Advantage of our refractometer
1. Pure Aluminum material, very study and good quality;
2. Super big scale plate, clear scale, very easy to read;
3. High-precision refractometer, all refractometer are advance calibration before shipment; you can use directly after you get it;
4. With high quality associations, high quality manual and clean cloth;


5. Different refractometer color you can choice;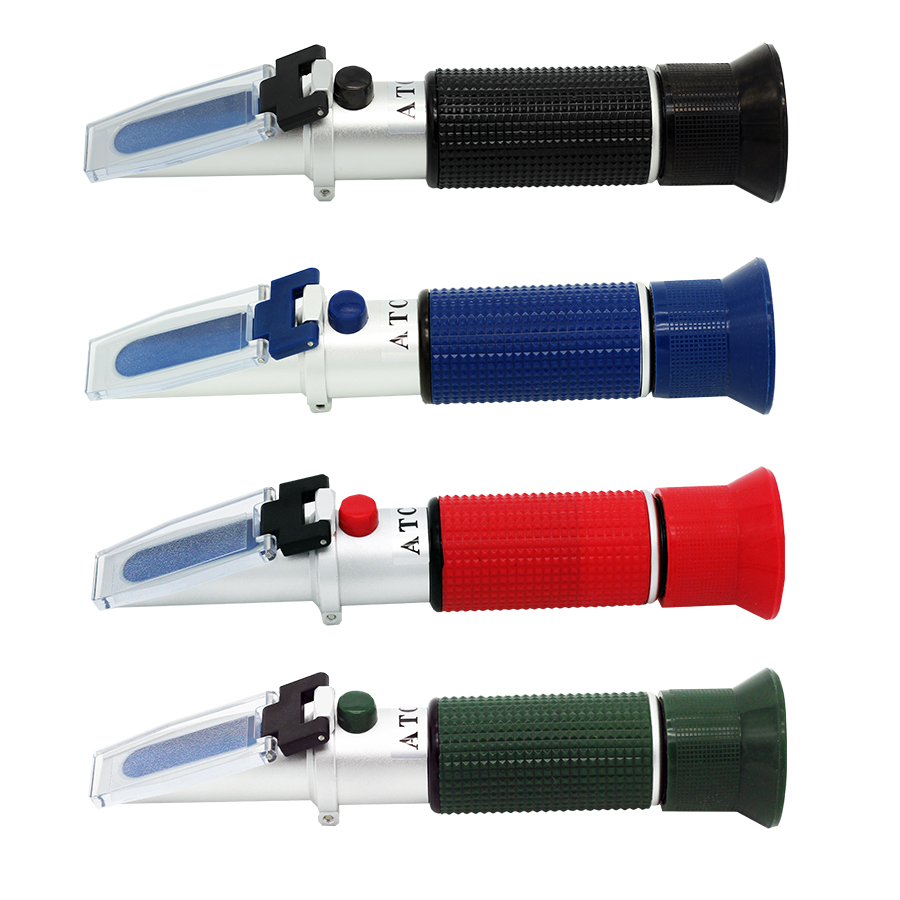 6. Different color box you can choice;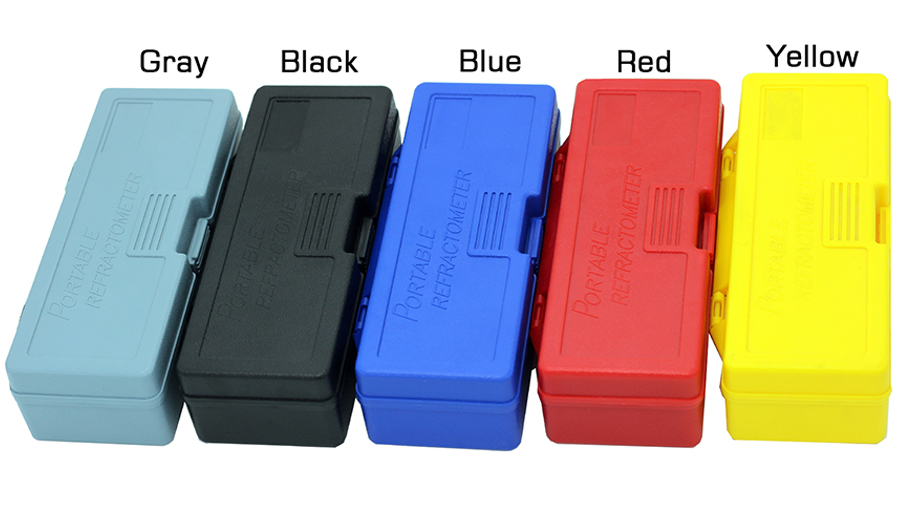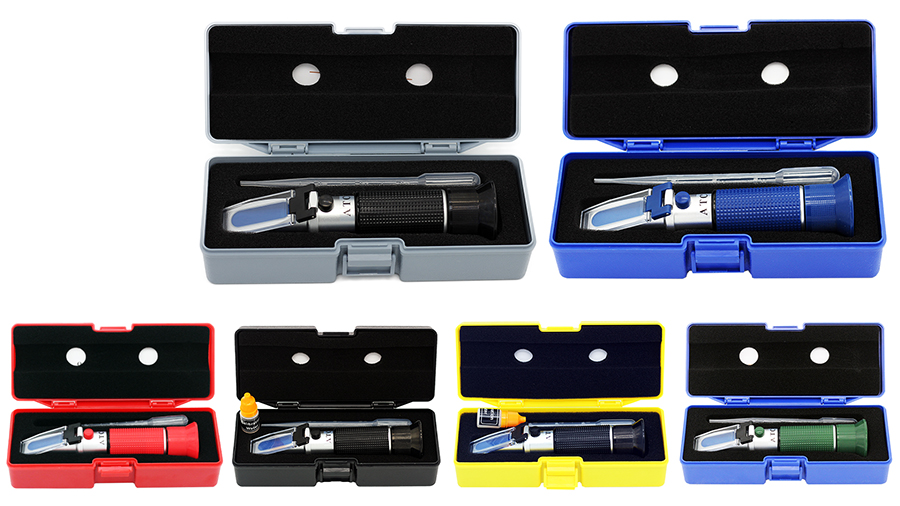 7. Instrument box you can choice;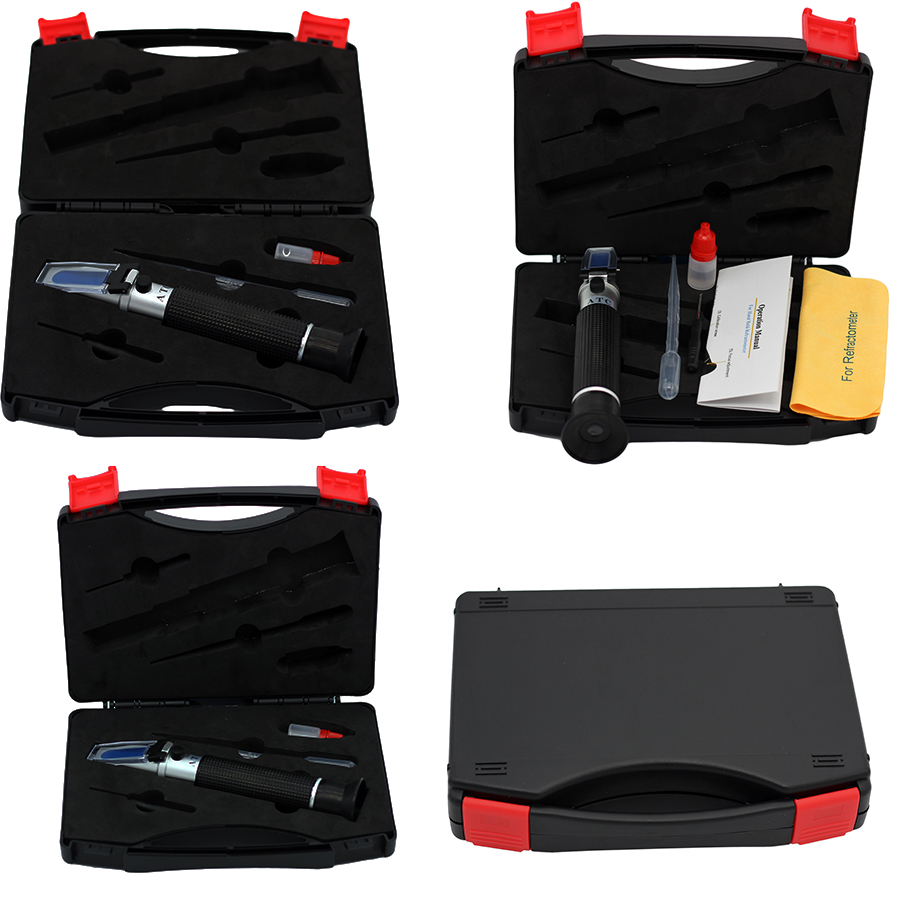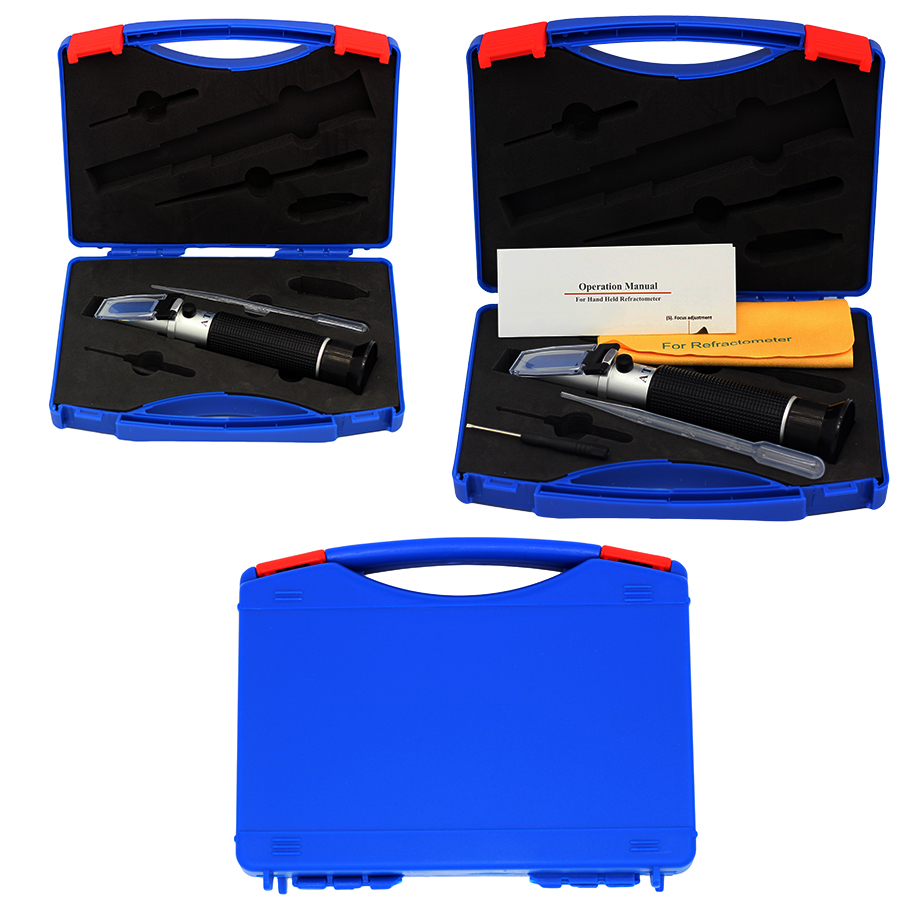 8. PU leather box you can choice;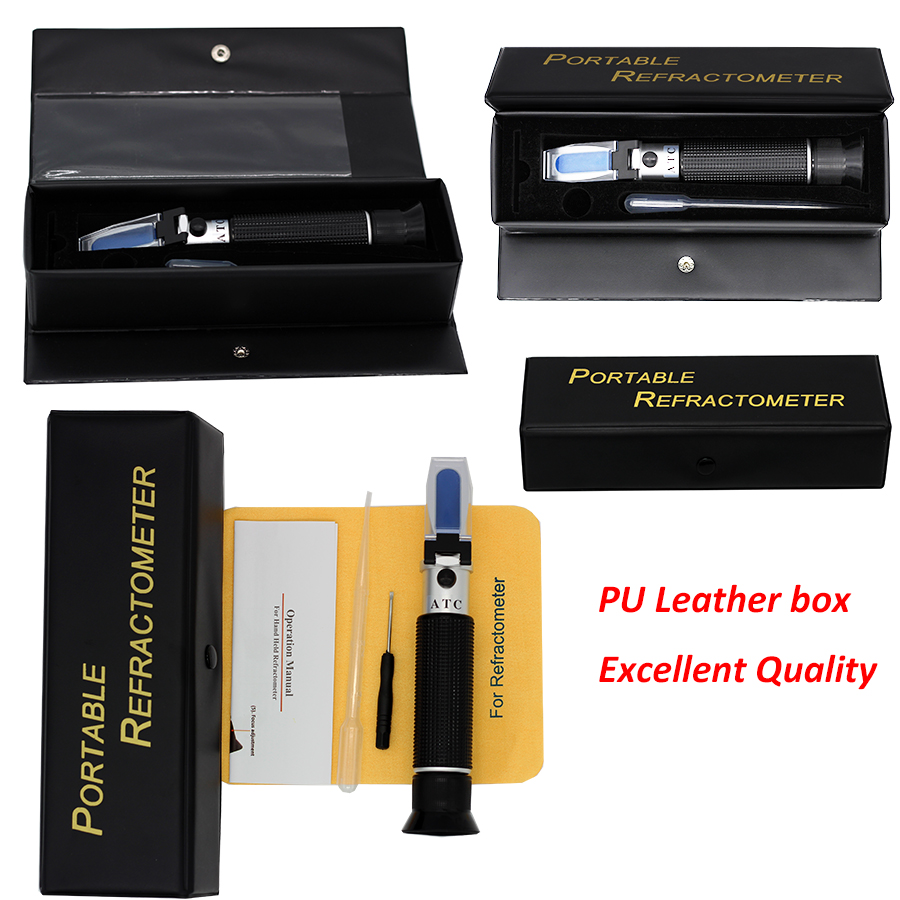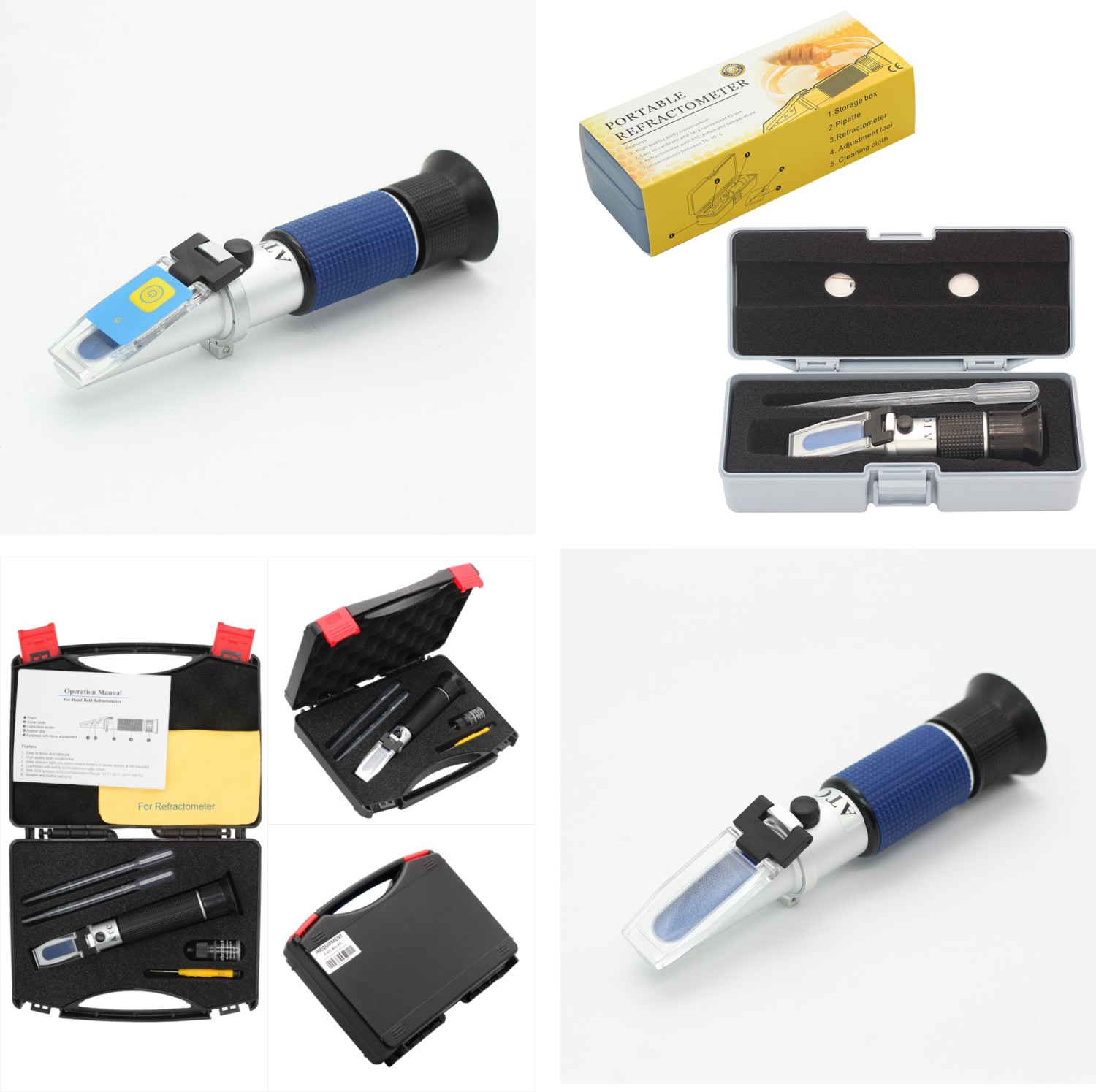 9. Support OEM services(Also support OEM scale):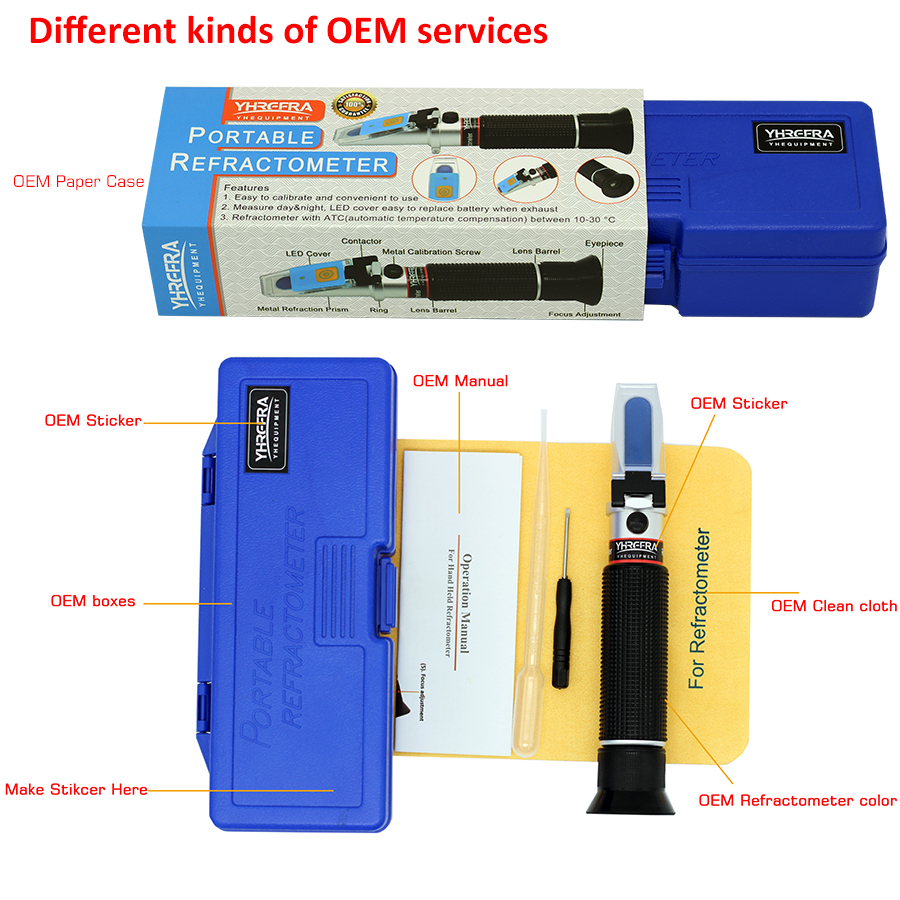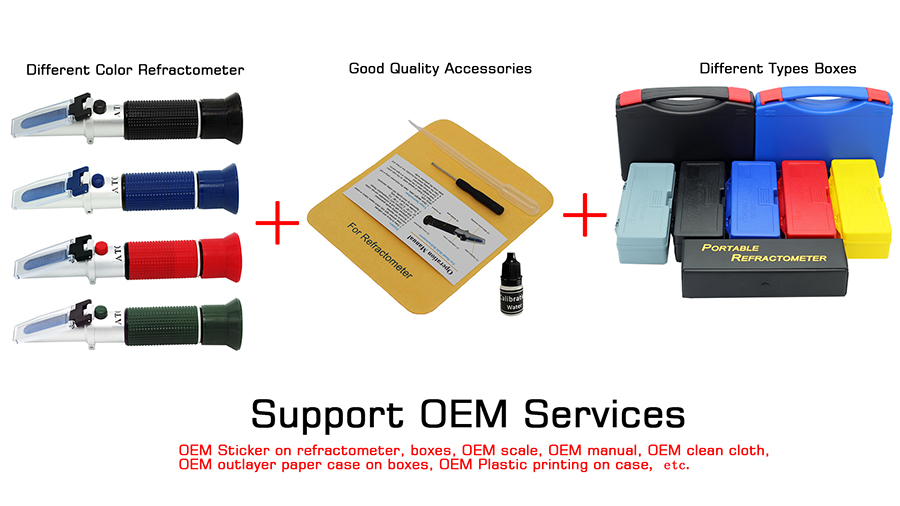 10. Have CE certificate for refractometer;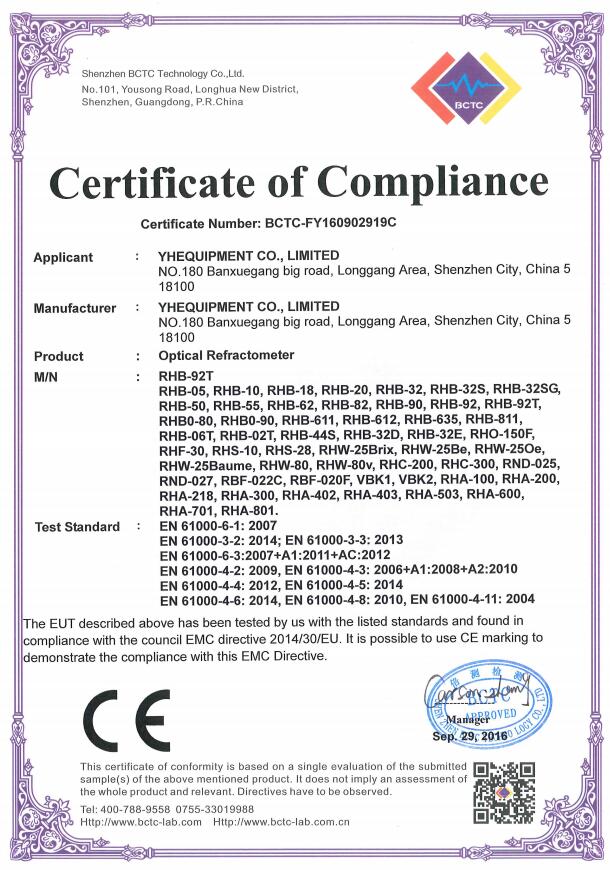 Q1: Why choose us?
A: 1. Pure aluminum construction, very high quality.
2. Directly from factory, very competitive price.
3. More than 6 years experience of export, best service.
4. Support customized (such as custom brochures, customized boxes, etc.), to provide the best quality products.
Q2: Is OEM available?
A: Yes, all goods can be customized made by your requirements, including packing, LOGO print, customized manual etc.
Q3: Can we buy 1 pc for sample testing?
A: Yes, we support sample order.
Q4: What's the sample price?
A: You can Email us to get detail price, thank you.
Q5: What's the mini order?
A: We support wholesale and retail, such as 10pcs, 25pcs etc. You can tell us the type and Qty, we will quote for you.
Q6: What's the package include?

A: 1x ATC Refractometer
1x Pipettes
1x A Mini-screw driver
1x Protective carrying case
1x manual
1x clean cloth
Q7: What's the different between Aluminum & Plastic and pure aluminum material?
A: Pure aluminum is both prism block and lens barrel are aluminum,aluminum+Plastic prism block is aluminum but lens barrel is plastic, other material is the same. The pure aluminum refractometer is heavier than aluminum+plastic. For example the RHB-32 brix pure aluminum refractometer, the net weight is about 128g. RHB-32 brix plastic+aluminum refractometer, the net weigh is about 109g.
Q8: If we have not found the model from website, what should we do?
A: Please email us with description and picture of the product, we research and develop new model every month, and some of them maybe have not been uploaded in website immediately. But if this is a new products for us, we can develop it for you after get all detailed information about your product.