CT-1003 Pen type PH meter electrode
Item No.: CT-1003
CT-1003PH composite PH electrode pH glass electrode and a silver-silver chloride reference electrode composite shell acid and high-temperature glass repression continuous 24-hour work. It is of a pH meter measuring the key , for measuring the pH value of
Product parameters
Specification:
0 ~ 14 PH
INQUIRY
Description
CT-1003PH composite PH electrode pH glass electrode and a silver-silver chloride reference electrode composite shell acid and high-temperature glass repression continuous 24-hour work. It is of a pH meter measuring the key, for measuring the pH value of the aqueous solution of ions in depth, widely used in the chemical industry, pharmaceutical industry and research utilities PH detection.
Features:

When the PH electrode used for the first or long home without, activated 2 hours electrode ball soaked in 3.3N potassium chloride solution Sino-French
Measurement should be washed in distilled water and wipe dry with filter paper to prevent impurities into the electrode bulb and liquid contact Ministry should also be immersed in the test solution within
The CT-1003pH composite electrode, not to be added to the outside of the reference solution.
CT-1003C pH the composite electrode be adding 3.3N KCL outside the reference solution.
Technical indicators: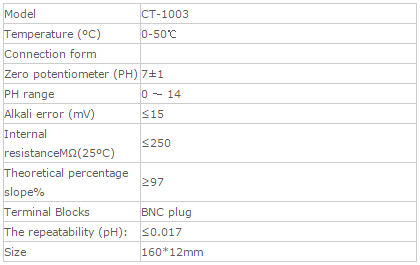 Installation:
PH electrode installation: Scaffolding.